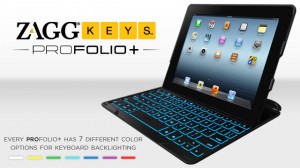 Gizmo readers, here is the ultimate in IPad accessories.  The ZAGGkeys Portfolio+ keyboard case provides pampering for iPad users with the backlit keyboard with 7 color choices for the background lights.
This versatile Bluetooth keyboard on the market is sleek (~6.3mm). It features a hinge that lets users angle the screen
A powerful Lithium Ion battery (included) keeps the cover going for up to three months of normal use before it needs to be charged, while a magnetic closure protects the screen during transport.
The 7 color background lights make this keyboard a wonderful accessory for the long car trips especially.  A wonderful alternative for the night time trips where it is truly an inconvenience to turn on the lights so the passengers can see they keyboard.
Zagg would also make a great graduation or father's day gift.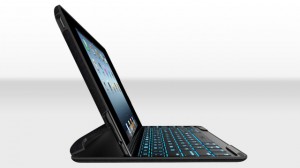 Features:
Product Dimensions: 0.3 x 7.8 x 11.5 inches
Weight 1.3 pounds
Engineered with backlit keys
Ultra-thin design is only 0.81″
Offers full body protection (front and back)
Specific shortcut keys operate essential functions
Magnet closure activates your tablet's sleep/wake function
Built-in stand holds your iPad® at an ideal angle
Battery lasts up to three months based on standard usage
References: ZAGGkeys PROfolio+ Keyboard Case Cover for iPad 2/3/4