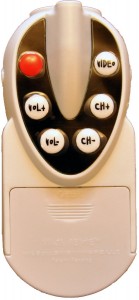 Last week I went to a sports bar / restaurant with a few friends. This establishment had several large screen high definition televisions. Unfortunately for us, all of the TVs were tuned to the wrong sports.  Finding a server to change the channel was even more frustrating.
Doing my homework and reading online I have found the perfect solution for the next time. At the size of a key chain, the Ninja Remote 2: Weaponized is a stealth remote control that will enable you to control most televisions and cameras from up to 400 feet away.
The Ninja Remote 2 also has a in built jammer.  Once you've changed the channel, the jammer will prevent other remotes from changing the channel, volume or any other TV feature
In addition to TVs it works as a great remote control for digital cameras. The cameras supported include Nikon, Canon (RC1-RC5), Sony, Olympus, Pentax, Samsung, Minolta, Konica, Kyocera, Yashica, Fujifilm, and Ricoh. This is a great add on for your digital camera bag.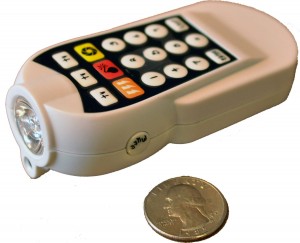 Product Specifications
Product Dimensions: 4 x 1.2 x 1.5 inches
Weight:1.9 ounces
Works worldwide on standard or high def TVs
Bomb a TV! Will change TV (power, volume, channel, etc) slowly over 15 minutes
Remote Jammer! Blocks other remotes
Take pictures with virtually any digital camera
Requires 3 AAA batteries. Not included.
References: The Ninja Remote 2