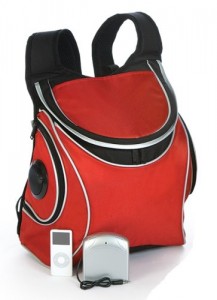 It looks like summer is finally here. Time to head out with the family on a nice picnic and enjoy the sights.
Why not enhance your picnic with some sounds the family can enjoy.
The Picnic Plus Cooladio Cooler is the ideal accessory. Big enough capacity to store your family lunch, leak proof to cover any accidental spills, but geek enough to support your iPhone, MP3, CD or audio tunes (through the audio input jack).
Product Specifications
Dimensions: 7 x 14 x 12 inches
Capacity: 18-can capacity,
Insulated leak proof liner
Power: Requires a 9V battery (not included)
Sound input: audio input jack and cables, speaker headset jack
References: Picnic Plus Cooladio Cooler on Amazon