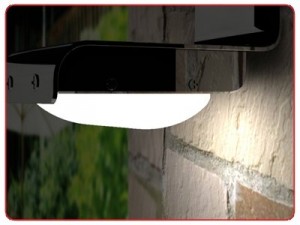 Just in time for summer, TSSS brings you its outdoor solar LED lamps.  These bright ideas can be mounted on your wall an are portable enough to be taken as is to illuminate your family outing.
In addition to having sensors for changes in light, these lamps have sound and movement sensors to turn off and on.
An environmentally great secure solution to warn you of any outdoor activity. In my case these devices have additional purpose for my household.  I will use the TSS lamps to get an early warning when those pesky racoons are out back going after my garbage cans.
Product Specifications
Dimension: 132*92*77mm
Net weight: 153g
Color(s): Silver
Li-ion battery: 3.7V 800mAh
LED: 16 peices, 1Watt
Sensors: Sound sensor, Motion, Ray sensor
References: TSSS Outdoor solar LED wall-lamp