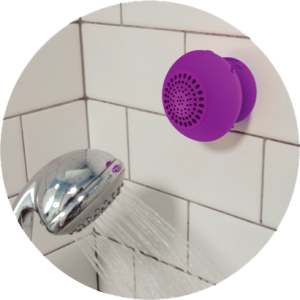 Another great gadget at the 2013 CEA in New York. Created by Audio Source, this great multipurpose water resistant mobile Bluetooth speaker will allow you to have great sound anyplace.
Whether it be camping, in the car or even in the shower, the high quality sound combined with the built in Mic with one touch talk will ensure that you will not miss any call any place.  Now perhaps you may want to use it in the show as a speaker for your MP3 instead of taking a phone call (I question what call could be that important that it would be needed to be taken in the shower).
The strong suction cup design is combined with the Weather proof, water proof, UV resistant, slip resistant and shock absorbing material. Available in a variety of colors and designs.
Product Specifications
Dimensions: 2.87″ H X 2.65″ D
Weight: 3.2 oz
Material: Silicone rubber
Communication: Bluetooth ver 4
Hands Free Protocol (HFP) v 1.6
Battery: 500 mAH UL listed battery, USB charging cable
Noise cancellation
References: Sound PoP by AudioSource