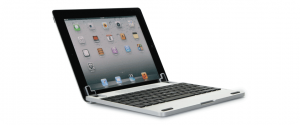 Here is a cool accessory that has the crowd talking at the 2013 CEA in New York.
Transform the look and feel of your iPad into a laptop with the Brydge keyboard. Made from aerospace-grade aluminum this light weight elegant keyboard hinges on securely to your iPad and connects wirelessly via Bluetooth.
There is also a model of the Brydge that enhances the basic sound output of the iPad speakers with a fully integrated stereo sound system.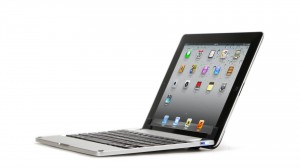 Product Specifications
Dimensions: 9.5 by 7.3 x 0.33 inches
Weight: 1.28 pounds by itself and 2.59 pounds when connected to an iPad 2
Material: made from aerospace-grade aluminum that is machined and anodized to perfectly match the look and feel of an Apple iPad
Compatibility: iPad2, iPad 3rd and 4th Generations.
Speaker Sound: 10 dB increase from the iPad's speakers
Battery: Lithium ion. Charged via micro USB.
Colors: Silver, black
Keyboard type: full QWERTY
International keyboard: supports an international toggle switch which will allow you to select different languages/keyboard styles
References: The Brydge iPad keyboard