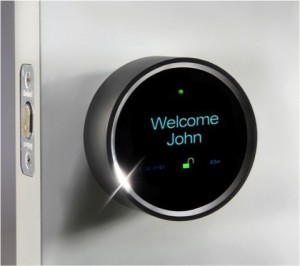 Goji has developed the lock of the future. The Goji smart lock is a do it yourself, idiot proof lock that mounts on your door and can be configured or programmed through Wifi. Similar to car locks, the mobile app enables you to unlock your door automatically as you approach it, without even having to take your smart phone out of your pocket or purse.
The Goji mobile app is compatibile with iPhone and Android phones, however development is under way to cover the widest spectrum of phones on the market. Goji operates either on the phone's Internet connection, or for models that have it, with Bluetooth Low Energy
Goji has a camera that takes a picture of anyone activating the lock and sends a real-time picture alert to your mobile phone. You can send electronic keys to anyone via text or email, and you can set up the access to be unlimited or to include specific date/day and time parameters. You can cancel or change the electronic key parameters at any time.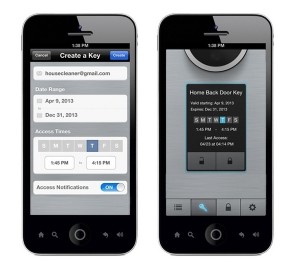 For the skeptics who ask what happens if your internet or power goes down? The Goji lock does not require a connection to your home WiFi to validate your keys. Goji requires the internet only to update the system.
Product Specifications
Doors: compatible with most wood and metal doors that use deadbolts.
Encryption: public/private key exchange, 256-bit encryption, and multiple layers of security to protect all components of the Goji systems
Compatibility: iPhone and Android apps,
Availability: First shipment December 2013
References: Goji Smart Lock