Just in time for those summer trips, Garmin introduced the Heads Up Display or HUD. This cool device projects your GPS navigation information from the Garmin StreetPilot® for iPhone® or NAVIGON mobile apps onto your windshield.
A great alternative for drivers to keep their eyes on the road while driving. The HUD works Works wirelessly with compatible Bluetooth®-enabled smartphones.
The HUD is easy to set up. Drivers can choose between displaying navigation information on their windshield, with the included, transparent film, or on to the included reflector lens that attaches directly to HUD. The device pairs wirelessly with a compatible Bluetooth®-enabled iPhone, Android™ phone or Windows® Phone 8. An integrated USB port on the vehicle power/adapter cable makes it easy to charge the smartphone while driving.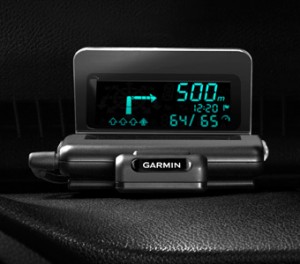 Product Specifications
Dimensions: 4.25″W x 3.46″H .73″D (10.8 x 8.8 x 1.9 cm)
Weight: 9.77 oz (277g)
Display type: VFD (vacuum fluorescent display)
Display brightness: 7,700 cd/m²
Color definition: 2-color display (green and red)
Operation temperature range: -15˚ C to 70˚ C
Storage temperature range: -40˚ C to 85˚ C
Operating voltage: 10 V-28 V
USB socket voltage/current: 5V/2.1A
References: Garmin Head-Up Display (HUD)