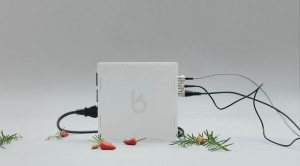 A friend of mine lives down town Toronto. Like every large city, space is at a premium and having a backyard with a garden is just a dream. Additionally, even if he had a garden, it would be very difficult with his travel schedule for him to get someone to look after his garden.
Well the creators of  gardening on the Web at Bitponics have come to the rescue. The Bitponics gardening system is a set of sensors that continuously monitor your garden elements (pH, Water Temperature, Air Temperature, Light, Humidity). This information is gathered by the base station that uploads it (in real time) to the Bitponics Cloud. This way you can manage your garden online from any web browser.
Several examples of it can be seen in well known hotels in New York and New Jersey including the Hyatt Regency Jersey who have a bitponics hydroponic garden installed at their front desk.
Unfortunately the only thing bitponics system is missing are the robotic arms to water your plant. Oh well, perhaps its a suggestion for Bitponics version 2.0.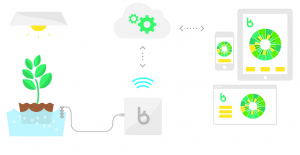 Product Specifications
Sensors: pH, Water Temperature, Air Temperature, Light, Humidity
Power: runs on standard 120v power and has 2 controllable power outlets
Operating system: Any OS that supports a web browser
References: Bitponics Internet Gardening