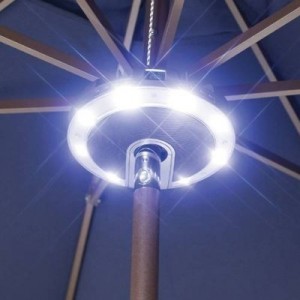 Here is a great product that will spice up your BBQ or back yard party. The Serenata LED Umbrella Light and Media Center is an accessory that fits your umbrella pole (up to 2″ in diameter) and is a multidimensional entertainment accessory. With a interface compatible with your iPod or MP3 player it also has two high-quality speakers that will play your party tunes while you enjoy your BBQ. Just in case you don't have a MP3 player it also has a dual band AM / FM stereo system.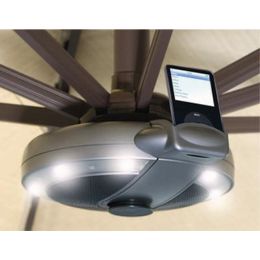 Product Specifications
Dimensions: 11.5 x 3.2 x 10 inches
Weight: 2.5 pounds
Batteries 1 Lithium ion battery (included)
Super white 8 unit led light system, with 3 brightness levels
Am/FM stereo with 5 presets
Bright LCD display panel with built in clock and temperature display
2 powerful, high quality speakers
User-friendly music player dock, compatible with iPod, mp3, mp4, phones and most other players
References: Serenata LED Umbrella Light and Media Center.