Logitech has hit a home run with its latest Bluetooth Z600 Speakers. Speakers created by tech companies at time can be technologically great but some times they are esthetically obtuse.
Logitech has addressed both of these requirements. These speakers can connect up to 3 devices at the same time and switch between them easily.
Whether connecting to the latest in Bluetooth devices from up to 33 feet away or simply attached to traditional audio or USB devices, the L600 will produce a vibrant rich sound. Described as "art" the speakers will blend in and enhance your living space.
Unfortunately you will have to wait a few weeks more as it is only available for pre-order. Shipping is expected to occur in August.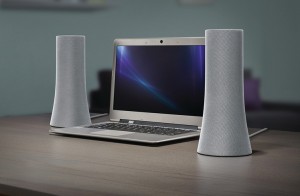 Product Specifications
Controls: Power, Bluetooth Connect, Volume
Bluetooth 2.0
Bluetooth Operating range: 33 feet / 10 meters
Input: Bluetooth, 3.5mm Audio Input Cable, USB Transceiver
2-year limited hardware warranty
References: Logitech Bluetooth Speakers Z600