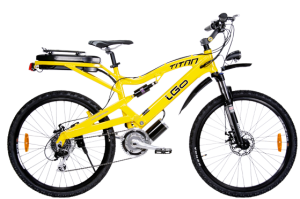 Yesterday I went to my local electronics store to purchase a case for my Tablet. I was surprised to see that in addition to standard electronics that they were selling electric bikes by iGo.
These small and lightweight (Aluminum Alloy) bikes are powered by Lithium-Polymer batteries. The urban design was created with the commuter in mind. The seat is very comfortable and the bike seems to be very maneuverable for the city but it is very durable so that you can take it on to the trail for some fun.
iGo's Direct Drive system powers a bike the same way a human powers a bike, by the chain but with way more torque. Unlike hub motors, there is no resistance or drag from the motor when the power is off.
A extremely cost effective alternative for the low mileage commute!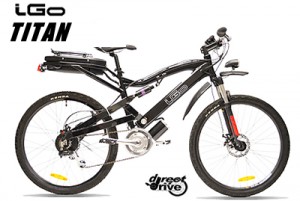 Product Specifications
Dimensions: Length: 61″ / 155cm
Weight: (without battery) 23kg (50 lbs)
Battery Weight: 2.7kg (6 lbs)
Battery Type: Li(NiCoMn)O2 (Lithium)
Recharge Time: 4-6 hours
Battery Life: Over 1000 recharges
Motor Type: Direct-Drive Motor System (Brushless) 120Nm
Frame: Lightweight Aluminum Alloy
Wheels: 26″x2″ Alloy double wall rims with stainless steel spokes
Colors: Available in Black or Yellow
References: The iGo Titan Urban Electric Bike