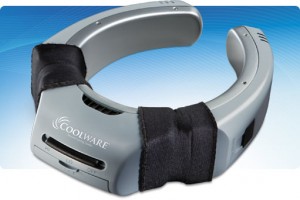 Here is a great way to beat the heat. the Personal Cooling System by Thermacell is a portable system that fits around your neck.
Thermacell has modernized the old concept of putting a cold wet towel on your head to cool your body down. The Cooling System uses a patented system, combination water chamber and fan to provide a body cooling sensation.
The built in fan delivers a gentle breeze through the side cooling plates. Depending on your mood you can select either the low or high fan settings.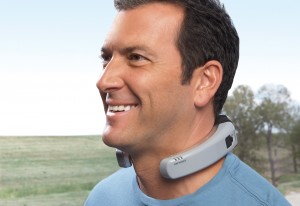 Product Specifications
Fits comfortably around the neck
Delivers a cooling sensation
Built-in motorized fan has high and low settings
Runs on 1 AA battery (included), for 20 hours of continuous use
Works best in humidity below 70%
Anodized aluminum construction
Weight: 8.3 oz. when full
Warranty: 1 year
References: Thermacell Coolware Personal Cooling System