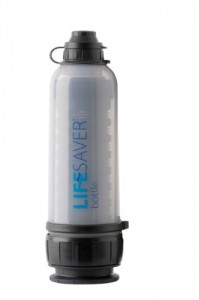 Have you ever gone overseas and was worried about the drinking water? Well here is a wonderful device for traveling or camping.
The LIFESAVER bottle is the World's first water bottle to remove all bacteria, viruses, cysts, parasites, fungi and all other microbiological waterborne pathogens without the aid of any foul tasting chemicals like iodine or chlorine or the need for any power or UV light.
The bottle also has a unique FAILSAFE technology that shuts off the bottle's cartridge upon expiry, preventing contaminated water from being drunk.
Having traveled abroad, this device will be a welcome alternative to boiling water and playing Russian roulette with bottled water.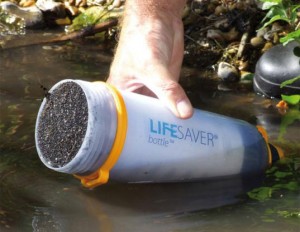 Product Specifications
Treats up to 6000-litres of water
Bottle uses replaceable filters
Simply dip base of bottle into water source and use the pump to force the water
Drink filtered water directly from the bottle
Dimensions: 12.8 x 4.5 x 4.5 inches
Weight: 2 pounds
References: Lifesaver Bottle 6000 Ultra Filtration Water Bottle on Amazon