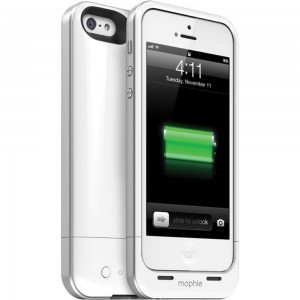 Gizmo readers, having traveled with Nick for work he has been frustrated by the lack of my battery life.
Last week he surprised me with a mophie juice pack. This light weight rechargeable external battery will double the battery life of my cell phone. In addition to the iPhone5, it is also available for the Samsung Galaxy , iPod Touch and other smart phones and tablets. Simply flip the switch on the juice pack to extend your battery life.
Charging is as simple as connecting the USB cable (provided) to the battery pack.   Whether traveling a lot for work, or the student who must  have connectivity, this stylish, camouflaged accessory is a must have for your phone.  Available in white, black and red.
Product Specifications
Dimensions: 1 x 3 x 3 inches
Weight: 2.7 ounces
Battery Capacity: 1700 mAh
Up to 100% extra battery with the flip of a switch
Product Compatibility: iPhone 5
Talk Time: Up to additional 8 hours on 3G
Package Includes: mophie juice pack air®, USB charging cable, User Manual, Pass-through audio jack cable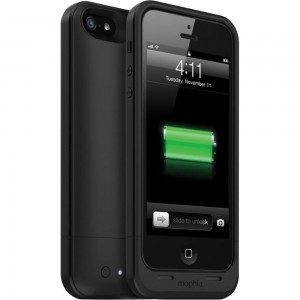 References: Buy a Mophie Juice Pack Air External Battery Case for iPhone 5 on Amazon