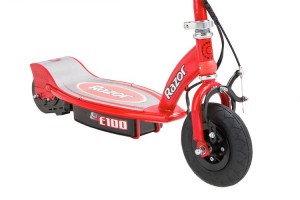 Last night on my walk I noticed one of the kids in the neighborhood zooming around on his scooter. Having talked with his parents I learned that they purchased the Razor scooter at a well known copy and print store.
The Razor E100 electric scooter is a small, light weight scooter that can get up to speeds of 10 m/h (16 km/h). Looking on line at the Razor it indicated that it has a 24V sealed lead acid rechargeable battery. The battery lasts for up to to 40 minutes of continuous use.
A great gift for kids and perhaps even cool enough for adults.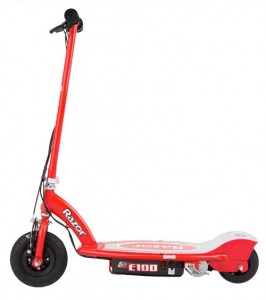 Product Specifications
For Ages 8+
Colors: Red, Pink
Product Weight: 29 lbs
Assembled Product Dimensions: 32.5″ x 16″ x 36″
24V (two 12V) sealed lead acid rechargeable battery system
Battery Charger included
Speeds up to 10 mph
Up to 40 minutes of continuous use
Material: All steel frame and fork
MAX 120lbs
References: Razor E100 electric scooter- on Amazon