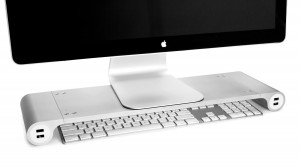 Having visited my nephew's university apartment (and dorm in the past), I know how space is at a premium for university students.
A great gizmo that will help to address this, the Space Bar Desk Organizer with USB Ports is a brushed metal shelf that can handle a keyboard up to 18″ long by 1.5″ high and support the weight of an iMac.
Powered using a 110-volt external power source, this device has 6 usb ports (4 in the front, 2 in the back). A great device to consider for the school year.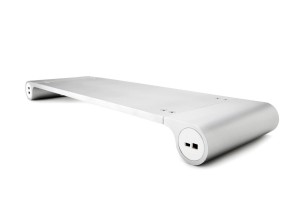 Product Specifications
Dimensions: 24.2 x 3.3 x 10.5 inches
Can stow a keyboard up to 18″ long by 1.5″ high and support the weight of an iMac.
Ports: 6 USB ports, 4 in the front 2 in the back of the shelf
References: Space Bar Desk Organizer with USB Ports on Amazon