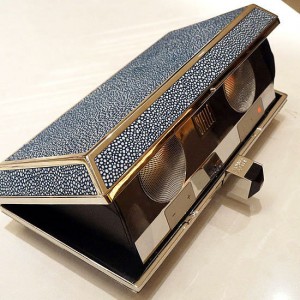 This morning I read an article that indicated that women make or influence 85% of all purchasing decisions.
A Newport Beach, California company called Stellé (Italian for "stars") has capitalized on this fact by targeting electronic gear towards women.
The Audio Clutch Handbag debunks the myth that technology and fashion are inversely proportional concepts. The Audio Clutch is a small 2.0 stereo system that can be taken anywhere. The Lithium-ion rechargeable battery ensures you have power even when your disconnection from a AC power supply for up to 15 hours. The Bluetooth wireless feature allows you to take calls discretely anywhere and anytime from a range of up to 50 feet.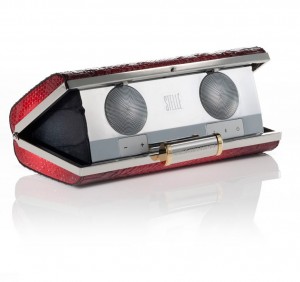 Product Specifications
Product Dimensions 9 x 2.2 x 4.7 inches
Product Weight 1.9 lb.
Bluetooth wireless range: up to 50 feet
Microphone: Built-in microphone for Speakerphone
Battery: Lithium-ion rechargeable battery
Battery life: 15 hours of continuous play between charges at nominal volume
Power: universal power supply 100-240V AC
References: Buy a Stellé Audio Clutch Handbag