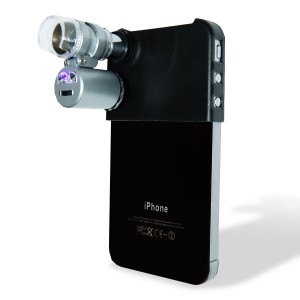 In school practically everything has been Gizmo-ed up with technology. Whether it be WiFi in the classroom to blackboards being replaced with interactive high tech Smart boards.
Well having talked with my daughter about her biology labs I can tell you one thing that has not been upgraded are the microscopes. Students today have to either draw what they view in the microscopes or try to find a similar photo online.
Well that was until now. I found this cool microscope attachment for the iPhone 4/4S that will capture images up to 60x in magnification. Small enough to fit in your pocket, and slim and sleek enough to slide over your iPhone.  Currently available for the iPhone 4 or 4s, but I am sure they will have one for the iPhone 5 shortly.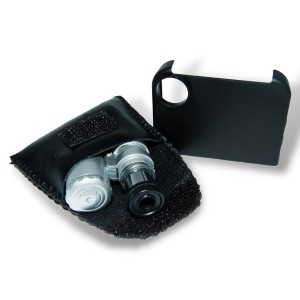 Product Specifications
Dimensions: 4.7 x 2.8 x 1.2 inches
Weight: 0.8 ounces
Magnification: 60x magnification
Features three built-in LED white lights for added illumination
Batteries: 3x LR1130 (Alkaline batteries)
References: Buy a Mini Microscope for your iPhone on Amazon