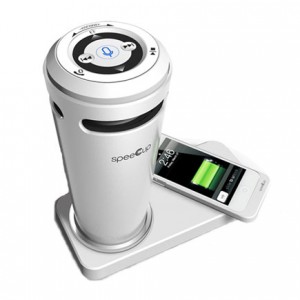 SeeCup is more than just a Siri/S Voice enabled portable Bluetooth surround sound speaker with gesture control.  With the increased amount of states and provinces banning drivers from (holding a phone  and) calling while the vehicle is in motion this device will save you money and will ensure your eyes are fixed on the road.
SeeCup works with Siri and S Voice-enabled phones, so you can tap the middle of the lid to voice request your song.
In addition the SeeCup gesture control features are a fantastic design feature. After you have turned on the gesture control. When you receive a call simply wave left or right in the direction on top of the SeeCup. When you are finished with your call you wave your hand left or right once again.
The SeeCup is battery operated, available in three basic colors (white, black, red) and works  from a distance of 30 feet.  An accessory for use in your car and even on the golf course.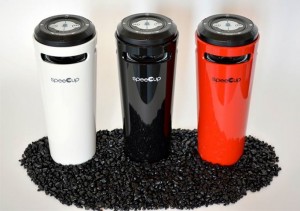 Product Specifications
Colors: White, Black, Red
Size: 8" tall speaker
Bluetooth Range up to 30 feet
Battery: Rechargeable lithium ion battery
Integrated noise canceling microphone
Aux line-out jack for Bluetooth streaming
Siri/S Voice enabled portable Bluetooth surround sound speaker with gesture control
References: SpeeCup Voice enabled Bluetooth sound speaker