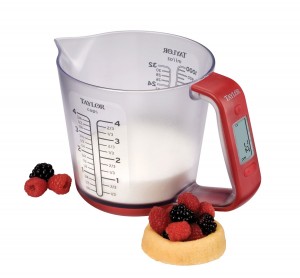 Watching shows like Master Chef and Kitchen Nightmares has inspired me to try to recreate the recipes in my kitchen.  However one of the challenges I seem to have is eyeballing the ingredients which at times does not translate into an elegant result. Our friends at Taylor have simplified things for us by coming out with a  combination measuring cup and digital scale, with readout integrated into handle
Simply pour your ingredients and look at the digital display. The easy to read LCD readout is in the molded handle. This device measures water, oil and milk in cups, fluid ounces or milliliters and flour and sugar in cups, ounces/pounds or grams.
Once you are done, simply hand wash and put away. A great device for any kitchen enthusiast.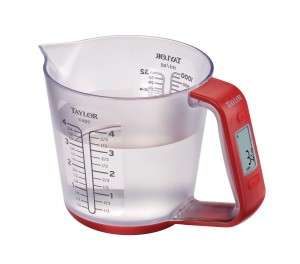 Product Specifications
Dimensions: 7 x 10 x 6 inches
Weight: 1 pound
Battery: Lithium battery included
Cup/ounce conversion chart included
Cleaning: Hand wash only
References: The Taylor Digital Scale and Intelligent Measuring Cup