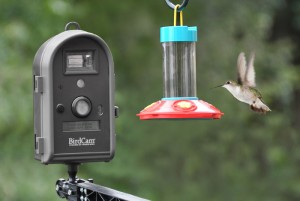 Just in time to capture the fall migration, Wingscapes has introduced its BirdCam Pro. This 8 megapixel motion activated bird camera can take photos and videos day or night from a birds eye view.  With the installation of the optional Wi-Fi SD card the BirdCam Pro can also send images directly to your computer (or designated website).
Its as easy as unpack, install the batteries and set up and you are ready. Able to stand most weather, the high resolution camera enables you to get the perfect picture or video without scaring the birds away.
In addition to tracking birds, this digital recording device is great for capturing images of unwanted intruders who are eating your birdseed.  So raccoons and squirrels in my backyard be warned that video surveillance is underway.
Once you have captured your images, you can download them onto your computer with the USB cable (provided).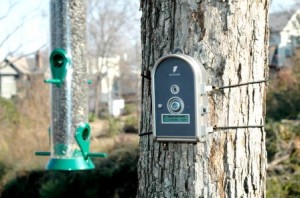 Product Specifications
Weather proof
Motion Activated
Flash for Night Photos and Videos
Photo Format JPG files
Video Format AVI files, 640 x 480 at 10fps
Image Output USB out
Memory Card Requires up to a 32 GB SD Memory card (not included)
Lens Field View 52 degrees
Focus 6 inches to infinity
Infrared Sensor Yes
Power Supply 6 C-Cell Batteries
Battery Life Average 6 months
References: Birdcam Pro