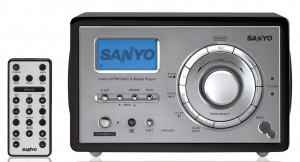 My wife was born in Europe and likes to watch and listen to foreign media. Whether it be foreign films, documentary, music or news. I think listening to these programs brings a little bit of her family back to her.
Looking to extend this experience further, I have been looking for an internet radio for her office.
Sanyo has developed a cool looking Internet Radio. Setup for the radio is very trivial. She can either connect to the internet via WiFi or plug directly into the Ethernet jack and she is ready to go. For home use it has also a clock and Alarm function to wake to Internet radio or FM.
Product Specifications
Dimensions: 5.3 x 8.7 x 4.4 inches
Weight: 4 pound
Wireless Supports WEP & WPA wireless protocols
Ports: 3.5mm auxiliary input jack; 10/100Base-T Ethernet jack
Power Supply AC 100-240-60/50Hz
References: Sanyo Internet Radio on Amazon