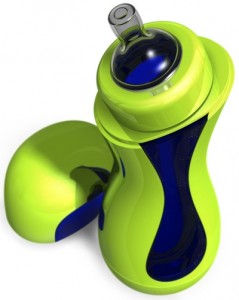 I have been shopping for a perfect gift for a family member who is having a baby. Having experience with young children I know that one of the toughest trips was visiting relatives who were several hours away.
Our friends at liamo have created a self-heating baby feeding bottle that will make that trip a little bit easier. Karim Rashid, the designer of this Baby Bottle warmer took into consideration a child's safety and well being.
In about 4 minutes the liamo is able will warm up 6 oz of milk up to the recommended 98.6F / 37C. The remarkable thing about this device is that no batteries or external power source is required. The liamo heats up the milk through an embedded heating cartridge. The cartridge contains no chemical. All natural and 100% it only contains salt and water.  The heat is generated simply from the reaction between water and salt
The bottle warmer is made out of the cleanest and most environmentally friendly plastic material polypropylene, Phthalate Free, Latex Free, Lead Free and BPA Free
The bottle warmer is also (with the exception of the stainless steel heat chamber) dishwasher friendly.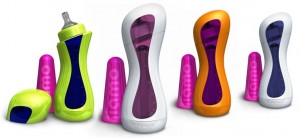 Product Specifications
Item Weight 10.6 ounces
Product Dimensions 11 x 5.1 x 8.7 inches
Material Type Phthalate Free, Latex Free, Lead Free, BPA Free
No batteries required
References: iiamo Go Self Warming Baby Bottle on Amazon