I have been looking for a speaker for my daughter's birthday that is not only delivers a musically enriched  high definition sound but is also portable enough to pick up and carry. Our friends at Bose have come forward with a perfect solution of the SoundLink Mini Bluetooth Speaker.
Don't be fooled by this speaker. Lightweight in mass alone ~3 pounds, as Bose once again has delivered a sound enriched high quality speaker that fits in the palm of your hand.  From the finest stereo listening from a state-of-the-art portable audio system, the Bose Luxury SoundLink Mini Bluetooth Speaker delivers pure, uncompromising sound.
Able to synch via Bluetooth protocol, you can listen to your music from a range up to 30 ft while powered on a rechargeable battery. You can also stream directly form Internet radio sources (eg Pandora®, Rhapsody®) directly from your computer to the SoundLink Mini Bluetooth Speaker.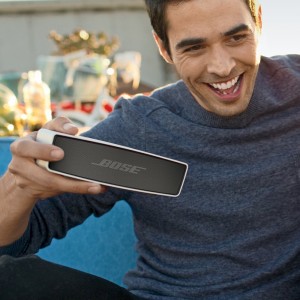 Product Specifications
Weight: 3.00 pounds
Battery Average Life: 7 Hours
Rechargeable battery plays up to 7 hours
Dimensions: Height: 2.0 in (5.1 cm) X Width: 7.1 in (18 cm) X Depth: 2.3 in (5.8 cm)
Inputs/outputs 3.5 mm auxiliary input; Micro-USB port
Bluetooth Wireless range up to 30 ft
References: Bose SoundLink Mini Bluetooth Speaker on Amazon