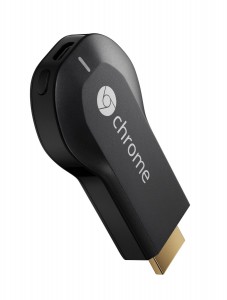 My sister does not want to pay for satellite or cable.  Justifiably so she finds it highway robbery to pay for a package when she only wants to watch a few of the channels in the bundle.  With more and more shows and movies being available online she has been looking for an economical solution to stream online video from the web on to her TV.
Well she found a simple but inexpensive solution created from our friends at Google. Chromecast is a small, easy to use, and relatively inexpensive ($35) device that enables you to send content from Netflix, YouTube, Hulu Plus, Google Play Movies & TV, Google Play Music, and Chrome to your TV.
Installation of Chromecast is simply, plug the device in your HDTV, connect it to the the network and send video from your device (laptop, tablet, smart phone) to your television.
In terms of updates, don't worry because Chromecast will automatically update itself to work with a growing number of apps.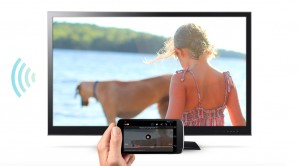 Product Specifications
Dimensions 2.8 x 1.4 x 0.5 inches
Weight 1.1 ounces
Supported Operating Systems
Compatibility: Works with Android, iOS 2.3 and higher, Windows 7 and higher, Mac OS 10.7 and higher, Chrome OS
References: Chromecast HDMI Streamer on Amazon