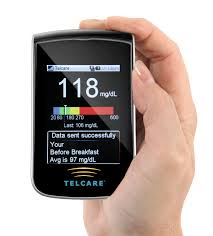 Having some friends who are diabetics and watching them have to keep track of their glucose readings,  I understand how tedious it can be at times. Here is an example of how technology can improve our lives. The Telcare Wireless Blood Glucose Meter allows you to monitor and track your blood glucose.
This device is easy to use. Simply test your blood and the meter does the rest. The Blood Glucose Meter wirelessly transfer your glucose results to a data management solution.
No downloads are actually required as the data management software is completely online.
Additional (optional) Android and iPhone apps gives you the additional ability to synch your results with your smartphone.
The power of the Telecare software goes beyond the seamless interface.  Telecare's mobile application allows the user to access all their data, set goals, track medication and nutrition data.  In some ways the app is like having a coach with you daily providing you feedback.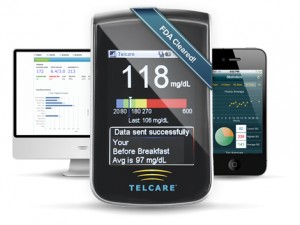 Product Specifications
Size (Inches) 3.94″ x 2.36 x 0.59
Weight (with battery) 4.1 oz.
Memory: 300 Tests
App Support: Optional – Auto-sync with iPhone / Android App for diabetes
Battery Type Rechargeable
Battery Life 3 year
FDA approved
References: Telcare Wireless Blood Glucose Meter