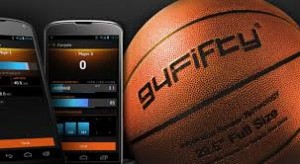 Have you ever wanted to improve your Basketball skills but could not afford a personal trainer to measure and customize your workouts?
Well our friends at InfoMotion Sports Technologies have developed a Sports Gizmo that will help improve your basketball basics. The 94Fifty by InfoMotion is an intelligent basketball that combines Smart Sensor technology with a customizable personal trainer embedded into a mobile app.
The 94Fifty is made out of Weather Resistant Synthetic Leather and is available in two sizes, 29.5 Inch (Size 7) and 28.5 Inch (Size 6). Once you have purchased the 94Fifty, download the app on to your iphone or tablet. To get started, dribble the ball a few times to activate and connect it to the app.
The 94Fifty measures and provides feedback on
Shooting accuracy and speed
Shooting angle
Shooting arc release and backspin
Dribble power
Dribble speed
The free downloadable app is available for both Android and iOS 5. The app also adjusts as players improve and increases skill difficulty. Start at the playground level and increase in difficult up to the pro level.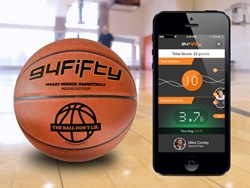 Product Specifications
Men's Basketball: 29.5 Inch (Size 7) Full Size (Males 12 and Up)
Weight: 600 Grams
Women's and Youth Basketball: 28.5 Inch (Size 6) (For Males 12 and Under)
Weight: 525 Grams
Material: Weather Resistant Synthetic Leather
Wireless Rechargeable Battery. simply place it on the charging pad and it watch the blue light turn on.
8 Hour Battery Life Per Charge
Mobile Support: Android 4.0.4 or iOS 5 or later
References: 94Fifty Smart Sensor Basketball