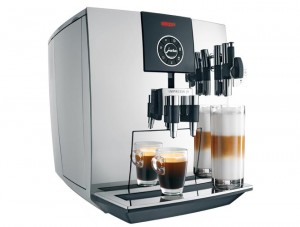 Roger Federer epitomizes class. In addition to being an amazing athlete he has grace in his demeanor on and off the court. That is why having seen the Roger Federer TV-Spot for the IMPRESSA J9, it makes me want to go out and buy one.
Jura has designed an automatic specialty coffee maker that simply targets the coffee making culture for people with style. The TFT display with Rotary section allows the coffee connoisseur  to select from a list of specialty coffees.
In addition to being able to program and adjust the amount of water dispersed for each preparation, you can also change the coffee strength, brewing temperature.
Although having gone through the manual from start to finish, unfortunately the only disappointment for me is that Jurra did not add the feature that will transfer my tennis game to be one tenth of Roger's.  Stay tuned Gizmo readers, perhaps this option will be available in the next release.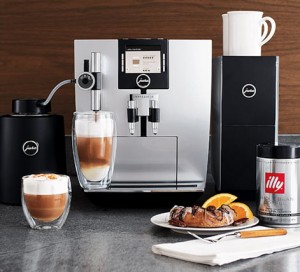 Product Specifications
Dimensions (W x D x H): 11.2 inches x 13.5 inches x 17 inches
Reservoir Size 73.5 oz
Auto Shut Off Yes
TFT display with Rotary Selection
Latte macchiato and cappuccino at the touch of a button
Height adjustable cappuccino spout (4.33 – 6.02 in)
Fine foam technology
Aroma+ grinder
Glossy double coat of metallic-look silver lacquer
Stainless steel vacuum milk container 0.6 l
Zero-Energy Switch
References: Jura IMPRESSA J9 One Touch TFT Automatic specialty coffee maker