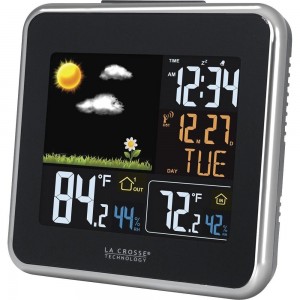 Over the past few days we have had some really wild weather. A line of severe storms that included tornadoes and thunderstorms, hit the U.S. Midwest and the eastern regions of Canada.
La Crosse Technology has developed a LCD forecasting station that will help you to keep a check on the latest weather forecast for your area, along with updates about temperature, humidity, local conditions. It displays indoor & outdoor temperature and humidity and date with automatic daylight saving time reset. Includes weather resistant wireless transmitting outdoor sensor with range up to 200 ft.
Wirelessly the inside receiver syncs and tracks data provided by the outdoor sensor . Available in both metric and imperial (°F / °C) measurements.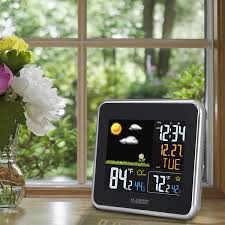 Product Specifications
Dimensions Receiver: 5.9″ L x 2.36″ W x 5.9″ H (150 x 60 x 150mm)
Dimensions Sensor: 2.5″ L x 1.42″ W x 3.98″ H (64 x 36 x 101 mm)
Color LCD with backligh
Power: Oncluded AC adapte
12/24 hour time with snooze alarm and alarm icon
Calendar: month, day, date
Heat index and dew point
Color forecast: sunny, partly sunny, cloudy, rainy, stormy
12 hour animated forecast based on changing barometric pressure
IN / OUT temperature (°F / °C) & humidity (%RH)
Batteries: 2 "AA" Alkaline Batteries Included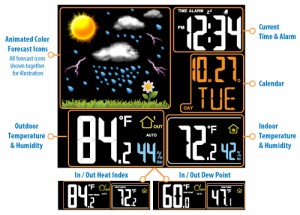 References: Buy a La Crosse Technology LCD Forecast Station on Amazon