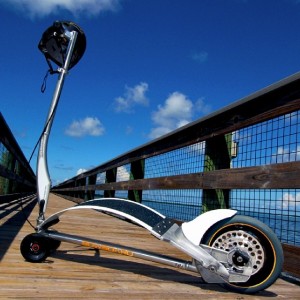 If you are like me then you are looking for the latest in extreme skateboarding for your son or daughter? Developed in the sunshine of Florida for that extreme skater.  Bowboard is that wild ride little Johnny or Jane is looking for.
Kicking or pushing down motion on that board engages the spiral gearing mechanism. Breeze through the urban forest terrain at breath taking speeds while performing life memorable stunts. Live the life of an Extreme Skater in this thrilling merge of a skateboard and scooter.
Bowboard has gone through five prototype and is currently the subject of a Kickstarter crowdfunding campaign. Folding handle bars make it compact and easy storage and transport
Thanks to Sarah for the email on Bowboard !
Product Specifications
Material: Durable aluminum alloy chassis
Support Weight: range of 70 to 170 lbs
Energy: No batteries required, human powered
Colors: black or white
References: The BOWBOARD on Kickstarter