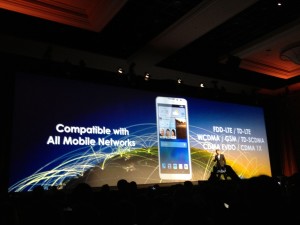 This morning the Huawei Press conference was an eye opener into this Chinese Multinational Network giant's strategic transformation and growth in its business.
The theme for 2014 was Make it Possible with 4G LTE. Colin Giles EVP Consumer Business Group and Richard Yu, CEO Huawei Consumer Business Group. provided a background into its phone product and mobile network evolution.
In 2013 Huawei shocked the market with the Ascend Mate, also known as the king of Phablets (combination smartphone and tablet) which was launched in over 40 countries world wide..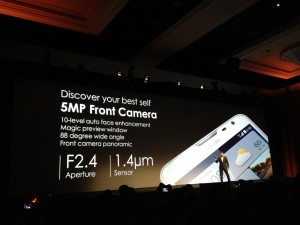 In 2014 they hope to grab consumers with Huawei's newest device branded as the "Ascend Mate 2 4G LTE". This premium quality product targeted to 24/7 consumers with stringent requirements..
The phone is more intuitive, has a curved shape, is comfortable to hope, and has a slim bottom edge.  Not only is easy to handle but has a fantastic display. The 6.1″ enhanced HD display (LTPS technology) provides consumers with the best in class screen to body ratio (79%). It provides consumers with a wider single thumb navigation.  A more powerful, faster connection, faster processing.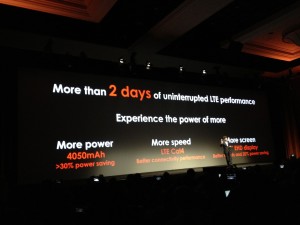 Other product features include
LTE Cat4 150Mbps – which in layman terms means you can download a one gig move in a minute.
It is compatible with all mobile networks
Supports 2.4 / 4 GHz Dual band WI-Fi
Bluetooth 4.0
Quad core 1.6GHz processor Qualcomm MSM 8928
Supports mufti-screen technology from 1 to 8 smartphones and share home TV.
Huawei addresses consumers biggest beef on battery life with its 4050mAh Li Ply battery. Combined with its 30% (patented power saving) power reduction technology this translates for the consumer with more than 2 days of uninterrupted performance.  To rub salt into the wounds of its competition, the Ascend Mate 2 has also a reverse charging ability to charge other devices (including its competitors devices )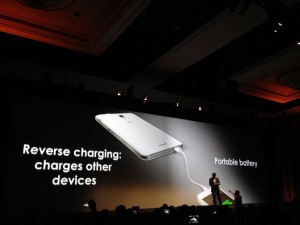 Key for today's smart phone are the photo features. Huawei has provided its customers with a more Enhanced Camera Experience with the 5MP front camera (compared to some of the competitors which have typically 2MP). and a 13MP rear camera. Photo software features included a 10 level auto face enhancement (which might save us 10 years on our photos), remote shooting and front selfie panorama.
The only challenge for Huawei with this amazing phone will be to provide the consumer with caffeine and sugar to be able to keep up with the Ascend Mate 2.