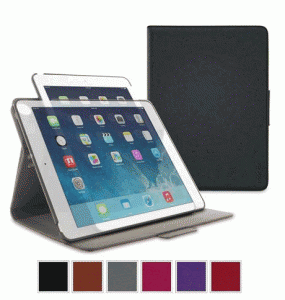 One of the gems of CES 2014 was a stunningly slimline sexy case for the Apple iPad brought to us by our friends at rooCASE.
This company named after a marsupial that is known for safely carries her young in her pouch would be experts in creating a case that would safely carry your mobile device through its daily routine.
Annie from rooCASE highlighted some of the spectacular features of this case.
The Smart Case is made from beautiful, premium leather and comes in six rich colors. It also features a soft, color-matched microfiber lining that helps keep your display clean. Whether you are a doctor, teacher, pre or post sales you can take advantage of the ability of this case to rotate 360 degrees (landscape and portrait) and the detachable shell which makes it ideal to transform the iPad to a seamless device.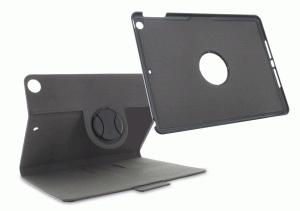 The magnetic front cover of the case also takes care of your device with its auto sensing sleep and wake feature.
Purchase one or many of these iPad cases and personalize your selection to match the case color with your wardrobe.
Product Specifications
Dimension: 9.6″ x 6.9″ x 0.8″
Weight: 12 ounces
Material: premium PU leather.
Colors: Black, brown, gray, magenta, purple, red
Apple iPad Air (5th Generation)
Lifetime Warranty against manufacture defects
Purchase the Roocase 360 Rotating Dual-View Detachable Stand Case for Apple iPad