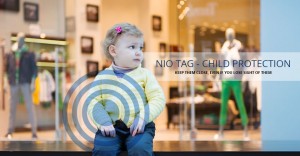 Gizmo readers, any parent will tell you that you cannot keep track of your child, no matter how much you try for 24 hours in a day. Last week there was a news story about a young child that got up and walked out of the house in the middle of the night while his parent's slept.
Here is a wonderful product brought to us by our friends at Bluenio. nio Tags can be attached or secured to any item you want whether it be your laptop bag, purse or a person (including a child's clothing, backpack).
nio Chain works by running software on your smartphone/tablet that communicates via Bluetooth 4.0 with one or more nio Tags .  Nio prevents the loss of your smartphone and other commonly misplaced items.
A wireless chain or perimeter is created around the device / person you have tagged. It can be adjusted (increased or decreased) based on your requirements. An alarm will sound if the link is broken between the nio Chain and nio Tag.  This could be caused by the tag being moved out of the range (up to 50 Meters) of the tag or by motion.
This is great for not only home use but also for helping to secure your child while in a store a mall. Should you become separated from your child, an alarm will alert you, acting like an electronic buddy system or an invisible, electronic gadget leash.
The product is very small, light and compatible with apple and android devices.

Product Specifications
Dimensions 45mm (L) x 22mm (W) x 10mm (H)
Connectivity: Bluetooth 4.0 (Low energy)
Range: up to 50 Meters
Sensors: motion, accelerometer
Alerts: Vibration, buzzer, LED
Battery: Up to 4 months, rechargeable USB
Compatibility: Apple, Android
Find my smartphone button for misplaced devices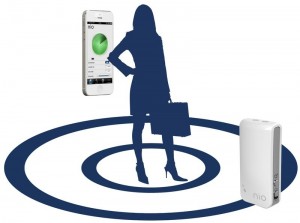 References: nio Tag Bluetooth security tag