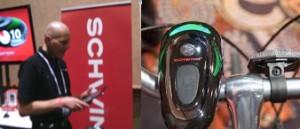 At the CES I had a few hours with Damian from Gadgetgrid to check out some of the
more healthy Gadgets for bicycles. In addition to being a astute technology guru,
he is a biking aficionado. Damian in the spring, summer and fall months loves to
discover the sights and sounds of Toronto.
One item that caught our eye was the CycleNav Smart Bike Navigator. Created by Schwinn, a brand that is practically synonymous with sleek cycling toys
Compatible with Apple (iPhone 4s), Android (Samsung Galaxy S4, HGC1) this navigator provides audio commands to direct the cycle enthusiast to their destination. Unlike traditional GPS navigators in which the rider's attention is focused on their phone and not on the road, the CycleNav allows the cyclist to keep their eyes and concentration focused on where they are going.
The app marks Schwinn's first entree into the world of mobile technology.  Riders can be challenged by selecting multiple route options based on route topology and difficulty.
The app is available for download on the Apple App store and Google play. CycleNav will be available on March 1 for purchase on SchwinnBikes.com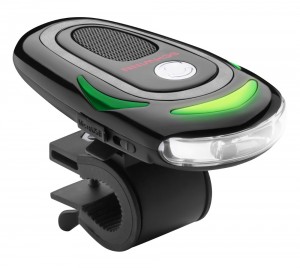 Product Specifications
Turn-by-turn navigation
Affixed to bike's handlebars equipped with a tool–‐free quick release for use on any bike, even rentals and bike share program bicycles
Voice and visual directions for bike friendly routes and to keep riders off highways
CycleNav app connections to CycleNav device through Bluetooth
CycleNav keeps navigating even when the phone is in stand–‐by mode
Repeat button allows rider missed in a safe, easy fashion to repeat directions in case anything was missed
Offer rider post–‐ride details and statistics from their ride (distance traveled, calories burned, and more) after setting up the initial rider profile in the app
Built–‐in LED light and high visibility headlight
10 hours of use time following each full charge
App offers seamless Facebook integration and n
password protection to use
Maps on CycleNav route available now anywhere in the Continental U.S. with other markets coming soon
Turning signal lights visible even in bright sunlight and a water resistant top means it won't be affected in the rain
References: Schwinn CycleNav Smart Navigator