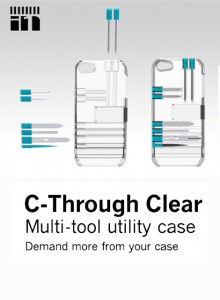 Here is a little gem we happened to stumble upon at the CES. Whoever said "good things come in small packages" must have been looking at the IN1 case.  This dynamic, durable lightweight (3 ounces) case is the ultimate Swiss army-knife for smartphones.
Shervin Azodi gave us a quick demo of the IN1.  Well engineered snugly fit into the Polycarbonate case are a set of pens, screw drivers, scissors, toothpick and a grooming kit. Great for everyday use and still even better for that technician who needs to have a set of tools at his fingertips just in case.
Shervin explained that currently they only have the IN1 available for the iPhone 5 / 5s but should have a version ready for the Galaxy 4 and iPhone 5c shortly.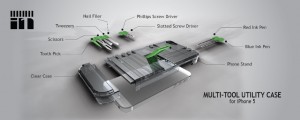 Product Specifications
Dimensions: 5 x 2.5 x 0.6 inches
Weight: 3 ounces
Material: Polycarbonate
Pens: blue pen, red pen
Screwdrivers: Phillips, flat head
Grooming: nail file tweezers
Scissors toothpick
Display: Kick stand to keep the in1 case upright while your working
Case Colors: Black, White, Clear
Tool Colors: Black, White, Blue, Pink, Green, Orange
Phones: iPhone 5 / 5s, Galaxy 4 (coming soon), iPhone 5c (coming soon)
References: Buy an IN1 Multi-Tool Utility Case