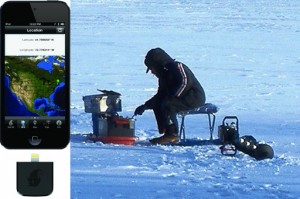 Recently there have been reports in the news about ice fisherman that have gotten disorientated and stranded on the ice as a result of the weather conditions.  In these case these fishermen could not use their smart phones to help them get back.
Having seen this in action at the 2014 CES, here is a wonderful technology enabler brought to us by our friends at Bad Elf. The Bad Elf GPS for Lighting Connector is a dongle that GPS enables your IOS device even if it does not have cellular service.
The Bad Elf team are so confident of its accuracy that they indicate that is accurate to 2.5m (9ft) up to 60,000ft and 1,000mph. This also makes it a great navigation tool for airplane and balloon pilots. The app is free to download from the Apple store and is voice enabled which provides the end user with voice guided turn-by-turn instructions.
You may ask how does it work and how can it be so accurate.  Well the Bad Elf GPS obtains accurate location readings directly from up to 33 satellites simultaneously from both the GPS (US) and GLONASS (Russian) satellite networks.
Compatible with your iPad devices (iPod touch (5th generation),iPhone 5, 5S, 5C,iPad Air, iPad (4th generation),iPad mini, iPad mini with Retina display) it requires zero configuration. Just unpack it out of the box, plug it in and the GPS data is automatically delivered to any location.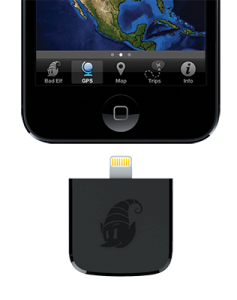 Product Specifications
Size: 1.1" x 1.1" x 0.25" / 28mm x 28mm x 7mm (WxHxD)
Weight: 0.3oz / 8g
App: Download the free Bad Elf app from the App Store
66 channel GPS & GLONASS Receiver
Accurate to 2.5m (9ft) up to 60,000ft and 1,000mph.
Cable for Charging: 3 ft micro-USB cable
References: Bad Elf GPS for Lighting Connector on Amazon