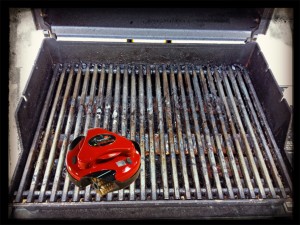 Its hard to believe that we are in the second season for barbequing. Many of our readers seem to enjoy barbequing outside in the winter. Here is a device seen at the CES that will help you to keep warm but will ensure your BBQ has been spotless.
The GRILLBOT is the latest in Robot technology that's. Built with three brushes this dynamo runs over your grill removing any scraps of dinner from your BBQ.
Using this device is easy. Once you have received it, simply unpack the GRILLBOT, charge it (initial full charge is 4 hours), hold the GRILLBOT from the top-side and place it on your Grill. Turn on the GRILLBOT and leave it to do its dirty work.
If you don't have a lip on your grill, no problem, simply close the lid on your BBQ.
You should always remember to use the GRILLBOT after your BBQ has cooled. However this Robot cleaner also has some intelligence engineered into its design. If by chance your BBQ is too hot, GRILLBOT has a built in sensor that will sound an alarm and shut down.
The GRILLBOT has a rechargeable lithium-ion battery and can be used for approximately 12 times before having to recharge it again.  Ladies this is a great Valentine's gift for your husband.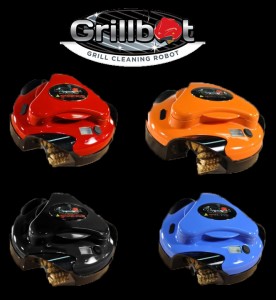 Product Specifications
Push Button Operation
Three Electric Motors
Three replacement Brass Brushes (installed)
Rechargeable lithium-ion battery
AC Adapter (applicable between 110 – 220V)
Colors: Red, Orange, Blue, Black
References: Grillbot the cleaning Robot on Amazon