These cold days in the Northern hemisphere have gotten me thinking about a product I happened  to see created by OJ Electronics.
The Nuheat Signature is North Americas first WiFi floor heating thermostat. Homeowners will be able to look at and change the temperature in multiple zones/rooms/homes through their smartphone or web browser connectivity.
Great for cool days such as today, you can crank up the heat prior to your arrival at home. The Signature system is compatible with most electric floor heating systems with a 10K Ω sensor and is suitable for tile and stone flooring. As with other thermostats you can set up a 7-day program that meets your requirements.
The only disappointment is that you will have to wait a little bit longer for the system. The Nuheat Signature Thermostat pre-orders will be accepted as of February 1, 2014.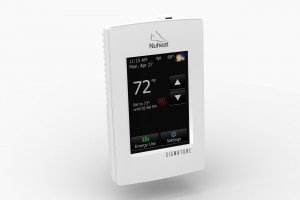 Product Specifications
Screen – 3.5", 320×480 pixel color back-lit LCD touchscreen
Connectivity: Wi-Fi, 802.11 b/g/n compatible WEP, WPA and WPA2
OS: Smartphone apps (iOS and Android) or a web browser
Sensor – Can be controlled by floor or room temperature sensor
Flooring – Suitable for tile and stone
Easy to Use – Set-up wizard and test mode to ensure proper installation
Warranty – 3-year manufacturer's warranty
References: Nuheat WiFi floor heating thermostat