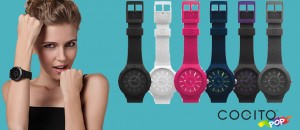 With the pending clocking changing back in a few weeks, here is a device that will ensure that you will not be caught off guard.
Created by our friends at ConnecteDevice Limited, the Cognito Analog smart watch is a technological merger between a watch and your smart phone.
In addition to being an analog watch, this device provides the user with a natural extension of their smart phone by bringing you customizable notifications to your wrist without the bulkiness of your Smart Android or apple phone.
Available in a variety of male and female friendly colors (ie Black Mamba, Black Panther, Blue Electric, Grey Paloma, Raspberry Crush, White Crisp)
Product Specifications
Android Compatibility: Samsung Galaxy S4, S4 Active, Note 3 and HTC One which running with android 4.3 platform.
Apple Compatibility: iPhone 5s, iPhone 5c, iPhone 5, iPhone 4s, iPad mini, iPad (4th & 3rd generation), iPod touch (5th generation) running with iOS 7 platform
Connectivity: Bluetooth® 4.0 LE wireless technology
Status: PRE-ORDER only. Product will be ready to ship in End Feb 2014.
References: COGITO POP Watch