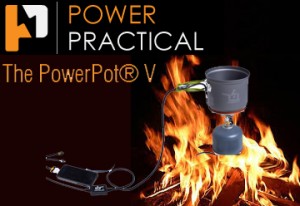 Readers, I have been told Gizmo Blogger Nick that this frigid temperature is ideal for camping.
One of Nick's newest camping gadgets is the PowerPot V. This ordinary looking camping pot is in fact a thermoelectric generator that converts heat into DC electrical power. So while you are heating up your water or rice, the PowerPot  will convert the heat into power for your electronic devices.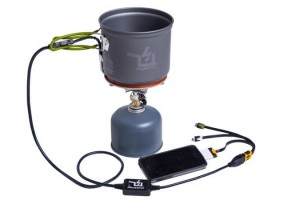 If you are worried about the heat of the fire and this device, then be assured. The PowerPot V. comes with three feet of heavy-duty, flame-resistant wire and a USB port. The 5V port is great to charge your cell phone, GPS, IPod, speakers, lights and low level electronics.
A wonderful gizmo so you are able to call the delivery man for some pizza (and perhaps heat for your tent) while camping out in this weather.
Product Specifications
Dimensions 4.5″ x 5.5″ or 4.5″ x 8″ with lid
Weight 12.1 oz (343 g), 18.2 oz (516 g) w/ lid + cord
Material Hard anodized aluminum
Capacity 1.4 liter (46 oz)
Charges cell phone in 60-90 minutes. Just as fast as your wall outlet.
Use to power any USB handheld device
5 watts of on demand power. Day or night, rain or shine
Works over any heat source (including open flame)
References: The PowerPot V on Amazon