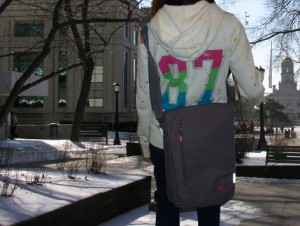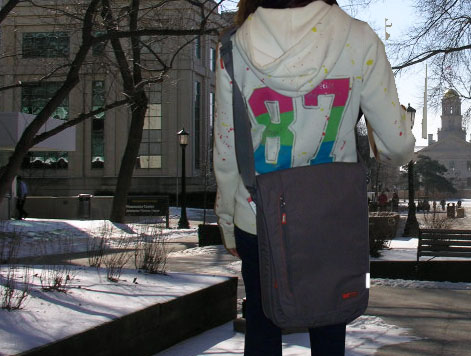 Recently, one of our Gizmo reporters had the opportunity to take the STM laptop shoulder bag for a test drive.  As a student and reporter, she was looking for a bag that was able to stand up to the rigors of the daily grind to and from school.  Having experienced other computer bags that were bulky and heavy, she was hoping STM was up to the task.
Whether you are a student or a professional you should keep a few factors in mind when looking for a laptop bag:  No matter what you requirement is or where you take your laptop, keep it secure and safe with the STM laptop shoulder bag.   Choosing a laptop bag is certainly subjective what you like depends on your taste and specific requirements.


This unique, spectacular bag has plenty of space and is made of light weight 300D velocity poly. Stylish and spacious, this shoulder bag features a special compartment to fit a 13″ laptop.  STM also has a bag to safely hold a 15″ size laptop.    This is important as some laptop bags may look larger than they appear and scanning the height, width, and depth will help you to avoid a return because your laptop won't fit.

The linear laptop STM shoulder bag has plenty of protected pockets to carry various electronics and smaller pockets for pens, papers and even chargers.This slim bag is very light and the strap is very easy to adjust. And for those who travel there is even a strap on the back to attach it to luggage. It's great quality and has a modern look.  It comes in different sizes (XS,S,M,L). Choose from a wide variety of styles and colors to find the perfect one for you.

One small but important factor of the STM design is its weight distribution approach.  Much of the back pain people feel today is the result of stresses on the body that accumulate with simple movement such as carrying your laptop and books in a bag.  Henceforth I found one of the most ergonomic features of this laptop bag was its thick, padded shoulder strap.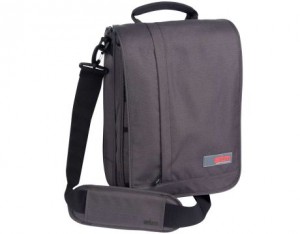 Specifications:
Outer Dimensions: 11 x 15.7 x 3.1 in / 28 x 40 x 8 cm
Weight: 1.1 lb / 0.5 kg
Material(s): 300D velocity poly
Lining: 200D Water Resistant polyester (laptop: 200g brushed nylex)
Device Space: 9.8 x 14.3 x 0.9 in / 24.9 x 36.4 x 2.4 cm
Capacity: 915.4 cu in / 15 L
Where you can Purchase: STM laptop shoulder bag