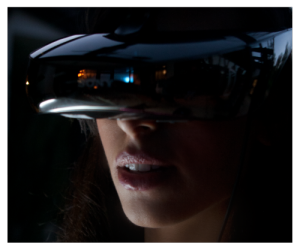 Gizmo readers, having visited a friend in Toronto I can truly say that living in a condo in a big city brings its own challenges. One of them being available real estate for entertainment including a large screen TV.
Sony has developed a fantastic, portable, personal, wearable technology that can help to address some of your issues. One of the stars of Sony's vast entertainment portfolio is the HMZ-T3W Personal HDTV 2D/3D Viewer.
At only 4.9 pounds and 14″ this wearable Head Mount Display will transform your space into a virtual 750-inch screen from 65 feet (like a movie theater) and virtual 7.1 surround sound.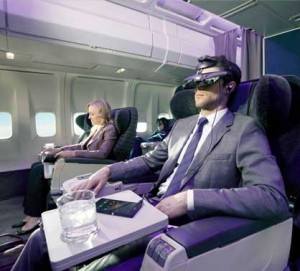 Small an light weight enough to take with you anywhere including the cottage and even on great for travel. Imagine sitting on that long trans pacific flight with the comfort of your own private large screen 150″ TV. One of the key features behind Sony providing you with a perfect experience is the dual HD OLED display which can be calibrated for each eye to provide outstanding clarity and color. While watching you can touch a button on the headset to instantly boost contrast and enhance shape details.
The headset can easily connect wirelessly to your Blue-ray, gaming console, (HDMI) PC, making it the ultimate work and entertainment screen.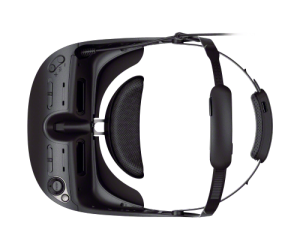 Product Specifications
Dimensions: 13.9 x 9.8 x 8.7 inches
Weight: 4.9 pounds
Batteries: 1 Lithium ion batteries required. (included)
Audio: Headphones
Connectivity: HDMI
PC Compatibility: Linux, OSX & Windows
References: Sony HMZ-T3W Personal HDTV 2D/3D Viewer