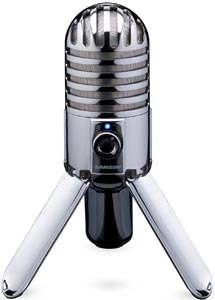 If you have the next Bruno Mars or Christina Aguilera at home, them you will need a solution to foster that talent.  Here is a cost effective, portable microphone that will be perfect for that "Voice" in your house.
The Samson Meteor Microphone, provides you with smooth and rich high quality recordings. This is done through Meteor's large (25mm) diaphragm condenser. Meteor Mic's chrome-plated body includes a fold-back leg design which means the legs will adjust to the perfect position to capture those vocal harmonics.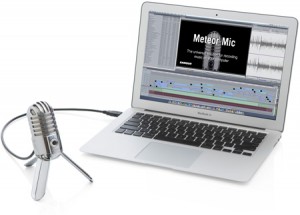 Setup with the Meteor mic is simple. There is no need for drivers, which means that after unpacking and plugging it into a USB port you can start recording right out of the box on any computer.
And once you are finished recording your demo songs, you can use Meteor Mic to call your agent and let him or her know. Meteor Mic works with Skype, iChat or voice recognition software.
Product Specifications
Dimensions: 6 x 3 x 5 inches
Weight: 1.5 pounds
Material: Chrome-plated body
Large (25mm) diaphragm condenser for rich audio recording
Smooth, flat frequency response of 20Hz – 20kHz
CD quality, 16-bit, 44.1/48kHz resolution
Interface: Plugs directly into any computer with a USB input
Listening Interface: 1/8-inch headphone jack for no latency monitoring
Compatibility: Most computer-based digital audio workstations
References: Samson Meteor Mic USB Studio Microphone on Amazon