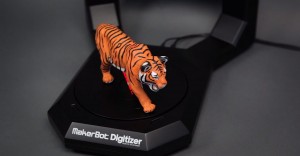 Recently New Gizmo Nick and I were talking about purchasing a 3D printer for both work and also for fun.  It would be a great tool for us to make everything from birthday to wedding presents.  Well Gizmo readers if you are also looking to buy a 3D scanner, one thing you must never forget is that either your going to find 3D files online, or you are going to need a great 3D scanner.
Brought to you a company that eats and sleeps in 3D, the Makerbot Digitizer is a easy to use sophisticated 3D scanner. With just two clicks of your mouse, this 3D desktop scanner will scan and create a digitized (STL, Thing) file ready for your printer. No 3D modeling background is required.
The MakerWare for Digitizer has a dimensional accuracy of approximately 2.0 mm and can provide you with detail resolution of 0.5 mm. The MakerWare for Digitizer contains an algorithm that connects hundreds of thousands of points into a seamless digital mesh in just seconds.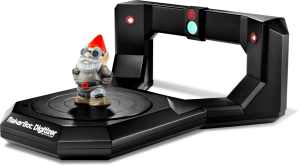 Product Specifications
Dimensions: 18.7 x 16.2 x 8.0 in
Weight: 4.7 lbs
Power Requirements: 12 V DC @ 2.08 amps
Operating Systems: Windows (7+), Mac OSX (10.7+), Linux (Ubuntu 12.04+)
Software: MakerWare for Digitizer (included)
Exported File Types: STL, Thing
Scan volume Up to 20.3 (diameter) x 20.3 cm (H) (8 x 8 in.)
Dimensional accuracy: ± 2.0 mm (± 0.079 in)
Detail resolution: 0.5 mm (0.0197 in)
Scan speed: Approx. 12 minutes
Maximum weight on turntable: 3 kg (6.6 lbs)
References: Makerbot Digitizer – 3D Scanner