Gizmo readers, I know that some people take their coffee pretty seriously.
In fact one of my favorite (Pulitzer Prize winning) syndicated columnist, Dave Barry is quoted as saying

It is inhumane, in my opinion, to force people who have a genuine medical need for coffee to wait in line behind people who apparently view it as some kind of recreational activity.
Well our friends at Saeco Philips must have heard Dave because they have created an Expresso machine that both Donald Trump and Horatio Cain would have been proud of. The Xelsis Digital ID Automatic Espresso Machine creates up to 9 coffee specialties can be personalized by 6 different users.  Engineered with a sleek and sexy design this gadget will elegantly match the contours and colors of your office or kitchen at home.
With a dump box capacity: of 14 servings and a water tank capable of holding of up to 1.6 L this device can adequately serve any large dinner parties.
However there is a highly customizable side to the Xelsis Digital ID Automatic Espresso Machine. This wondrous device, has a digital id scanner to use fingerprint recognition to store and make your own personalized coffee. Saeco has built in a integrated automatic milk function which offers an intelligent milk froth adjustment system for each individual user.
However once you purchase your own Digital ID Automatic Espresso machine, you should remember once it has created your wonderful beverage that you should sit back and enjoy your coffee.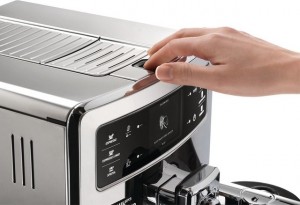 Product Specifications
Fingerprint user recognition
Integrated automatic milk function
Dimensions(L x D x H): 280x370x420 mm
Weight: 16,1 kg
Maximum cup height: 150 mm
Material: Stainless steel
Store and recall up to 6 unique user profiles
Power: 1500 W (Energy saving: Selectable Eco-mode)
Dump box capacity: 14 servings
Water tank capacity: 1.6 L
References: Xelsis Digital ID Automatic Espresso Machine