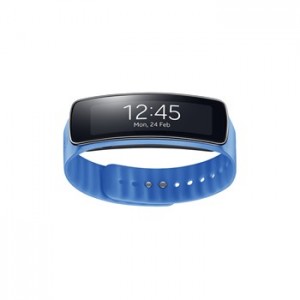 Having test driven many fitness devices I was enthusiastic to take a brief gander at Samsung's fitness accessory. Appropriately named the Gear Fit is a adjustable hypoallergenic wristband with a built in Accelerometer, Gyro and Heart Rate sensor.  The screen can be viewed in either landscape or portrait mode.
Branded by Samsung as the industry's first curved, Super AMOLED wearable device for the active consumer, in addition to being able to track Pedometer, Exercise, Heart Rate, Sleep, Stopwatch, Timer this device also provides the end user with notification alerts through SMS, Call, E-mail, Apps.
The Gear Fit is IP67 Dust and Water Resistant and is compatible with various Samsung devices including the:
Samsung Galaxy smartphones and tablets including the Samsung Galaxy S5, Grand 2, Note 3, Note 3 Neo, Note (2, 10.1 (2014 Edition)), S3, S4 (S4, Zoom, Active, mini) Mega (6.3,5.8) , NotePRO (12.2), TabPRO (12.2/10.1/8.4)
The only issue with the Gear fit is that if you want to purchase one you may have to wait a little longer as Samsung's initial 250,000 Gear Fit stock has already sold out (source MK News Korea).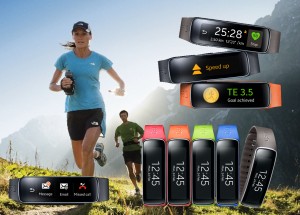 Product Specifications
Dimension: 23.4 x 57.4 x 11.95 mm
Weight: 27g
1.84" Curved Super AMOLED Touchscreen Display
IP67 Certified Dust and Water Resistant
Accelerometer, Gyroscope, Heart Rate Sensor
Typical usage : 3~4 days, Low usage : Up to 5 days
Bluetooth 4.0 LE
Colors: Black, grey, blue, green, orange, purple
Track-able Statistics: Pedometer, Exercise, Heart Rate, Sleep, Stopwatch, Timer
Battery: Standard Battery 210mAh
Battery Life: Typical Usage 3~4 days, Low Usage up to 5 days
Where to purchase the: Samsung Gear Fit