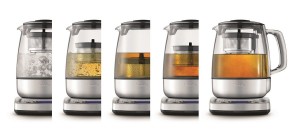 Over the weekend I went out for some gadget shopping for kitchen devices. On the top of my list was to purchase a device I saw at one of my friends house.
For all you tea drinkers out there, you know that the art of making tea is more than just a action, in some societies it is a cultural art that may take many years to master. Being able to prepare a really good cup of tea requires a skill and knowledge of the tea type used in combination of the appliance (tea pot) and correct temperature of the water.
"The Tea Maker" by Breville is a extraordinary kitchen accessory that brings Team making into the new millennium. The Brevile Tea Maker is an intelligent appliance that provides different options from heating water to the exact temperature required by different (Black, Green, White, and Oolong) teas which allows their unique flavors and aromas to develop during brewing.
It also has an auto rise basket feature at the correct time to prevent over steeping, features variable control for tea strength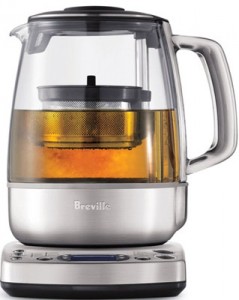 Built into the sexy Schott Glass and Stainless Steel appliance is a high powered 1500 watt heating element for a quick boil. The Breville basket is programmed to automatically lowers when correct water temperature is ready to bring out the optimal flavor
Breville has truly mastered the art of providing you with the perfect cup of tea
Product Specifications
Dimensions: 22.9 x 17.8 x 29.8 cm
Weight: 454 g
Capacity: 51 oz (1.5 L)
Wattage: 1500
Material: Schott Glass and Stainless Steel
References: Breville Tea Maker