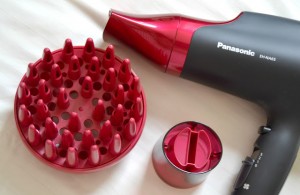 Looking for that special Mother's day gift that fuses fashion and technology ? Well here is the gift that will meet your stringent check list.
Brought to us by our friends at Panasonic the Nanoe Hairdryer provides your special lady with latest in technology to make her look fabulous every day.
Typically a hairdryer blows cool or hot air over a persons wet or damp hair, in order to accelerate the evaporation of water. What makes the Nanoe different is (according to Panasonic) the Nanoe Hairdryer leverages a algorithm which breaks blown ions down before infusing them with moisture. This process adds moisture to one's hair, preventing dryness and maintaining smooth, shiny hair and a healthy scalp.
In addition to styling this dryer will make your hair shine, and provide it with a healthier and softer core. Small and light enough to fit into your travel case.  Available in black or pink, with three temperature (hot, warm, cool) and two speed (low, high) settings.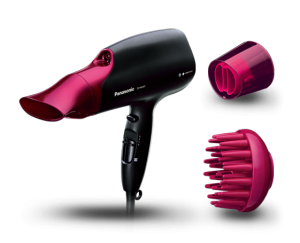 Product Specifications
Dimensions: (H x W x L) 9.1″ x 8.2″ x 3.5″
Weight: 20.6 oz
Power Consumption: 1875 Watts
Color: Black / Pink
Temperature Settings: Hot, Warm, Cool
References: Panasonic's Nanoe Hairdryer