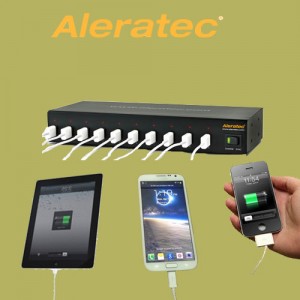 Spring Gadget clean up time. lets start with your USB chargers. If your like me you have a multitude of chargers and cables for your iPad, iPhone, Samsung Galaxy, Bluetooth headset and other devices. Unfortunately you may have only a few wall outlets to be able to managed the chargers for each of these devices.
Our friends at Aleratec have developed a Charge and Sync Station Mini that will help you with your plug and charger mess. At only 1 kg this device is ideal for your home office and will charge or sync up to 10 iOS, Android and most other devices simultaneously.
The Charge and Sync Station Mini 10 includes a 150-Watt power adapter and supplies up to up to a full 2.1 amps per USB port. The LED indicators show the charge or sync status of your attached USB devices.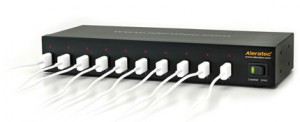 Product Specifications
Dimensions (L x W x H): 270 x 110 x 45 mm / 10.6″ x 4.3″ x 1.8″
Product Weight: 1 kg / 2.15 lb
Material: Durable, all-metal construction enclosure
Ports: 10 USB Ports (10M)
Power: 150W power adapter has enough power for up to a full 2.1 amps per port
Power Output: DC 24V, 6.25A
Warranty: Limited 1 year parts and labor
References: Aleratec Charge and Sync Station Mini 10